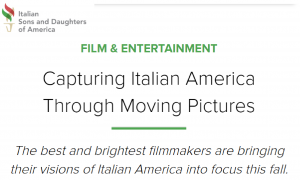 The best and brightest filmmakers are bringing their visions of Italian America into focus this fall.
The National Italian American Foundation (NIAF) and Italian Sons and Daughters of America (ISDA) are excited to announce the 2018 grant finalists for The Russo Brothers Italian American Film Forum.
Spearheaded by directors Anthony and Joe Russo, the Film Forum is an initiative to fund films depicting and exploring the Italian American experience for the benefit of future generations. . .